RTI is a certified integrator for Coherent Taipan OPSL technology:
Since 2008, Ray Technologies GmbH is "Coherent Certified Integrator" for Coherent Genesis TAIPAN Lasers by successfully completing the technical integration of Coherent Venom Lasers.
In October 2009, Ray Technologies GmbH already sold the 100th Coherent Genesis TAIPAN Laser.
In February 2010, Ray Technologies GmbH sold the 200th Coherent Genesis TAIPAN Laser.
In April 2010, Ray Technologies GmbH sold the 300th Coherent Genesis TAIPAN Laser.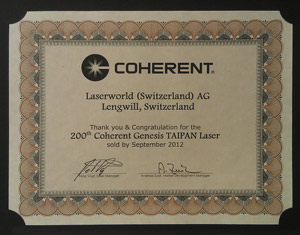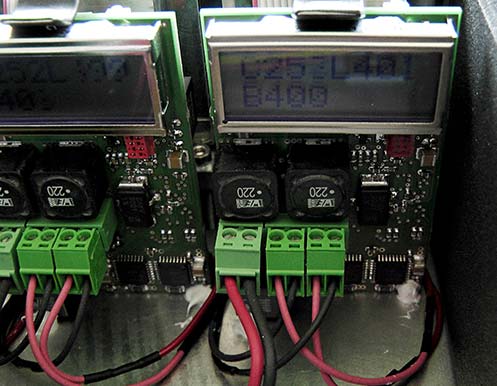 What does OPSL Integrator mean?
Integrators for Coherent Genesis TAIPAN Laser are certified companies that develop and manufacture driver electronics adapted to the specific OPSL modules. Due to the advanced technology of the OPSL modules, the development of suitable drivers is quite complex.
Once such a driver has been manufactured, it must pass a rigorous Coherent quality and performance test before being granted integrator status. Official certification takes place under demanding conditions.
RTI's latest drivers have been certified again and are about the size of a cigarette pack. Therefore the installation of OPSL modules in very compact housings is possible.
What is OPSL?
OPSL stands for "Optically Pumped Semiconductor Laser" and describes a special laser source, like DPSS and diode lasers or gas lasers. The company Coherent from the USA holds the patent for this technology. OPSL systems are very advanced and offer high-end beam specifications. In addition, the modules are available in many different colors. In addition to the classic RGB, yellow, orange and cyan are also available. This extended color spectrum allows the display of a multitude of color gradations.
RTI uses OPSL sources for example in the RTI PIKO and RTI NANO series, the most professional show laser solutions in the portfolio. Compared to DPSS modules, the color linearity, stability in the display and the beam data are particularly outstanding in terms of quality.
The special OPSL drivers from Ray Technologies fit on the back of a Coherent OPSL module and therefore do not take up much space inside the housing.
Coherent and Ray Technologies has been a proven partnership for many years.